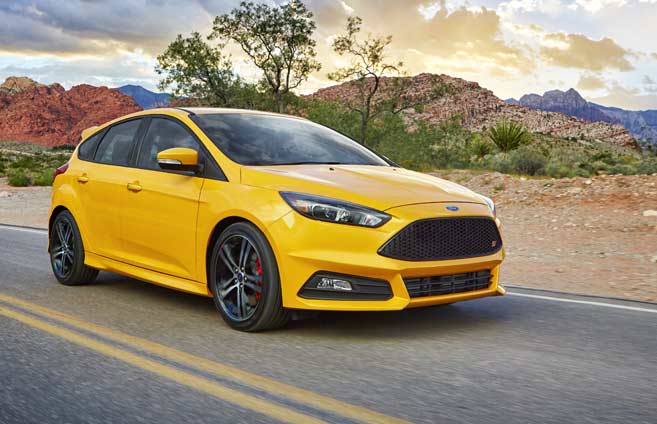 The Ford Focus has been one of our more popular cars we sell at Apple Ford Lincoln Apple Valley. It has been since it first arrived at showrooms back in 2000. These great compact cars were proven as practical, economical and fun to drive. Families, couples, and individuals love them because of their value and the great deals they get from us.
Today's Focus is no exception. Add the sporty ST and the new performance-bred RS, the Focus becomes more of an icon for enthusiasts.
We found out that our auto journalist friend Randy Stern had a Focus in for review. We were hoping he would have the RS. But alas they are still rare. Instead, let him talk about the 2016 Titanium hatchback he drove recently.
1. THE FORMULA HAS NOT CHANGED: I remember driving the first one back in 2000. It was such a great car that I wouldn't mind owning one. It was different than anything else on the road – and much, much better than anything it competed against. Today's Focus follows the same formula – as much as one is used to its competitors, the Focus offers a lot of standout features that distinguishes it from the rest. Practical hatchbacks with unique styling, a great cabin, good engine choices and trim levels. The sedans offer great trunk space, too. Same as it ever was…but even better for today's demanding drivers.
2. SYNC3: I already sampled the new Sync 3 several months ago – and liked how it worked. It is also available on this year's Focus models. Everything about it is better – connection speeds to your mobile device, excellent interfacing with your applications, and easier to read navigation systems. That is just scratching the surface.
3. GREAT PERFORMANCE AND ECONOMY: The reason you buy a Focus is to get that balance of performance and economy, right? First off, the EcoBoost 1.0 liter three-cylinder engine will surprise you. It will surprise you with its power and its economy. Although the six-speed manual has a great, easy to work with clutch – one that could teach an automatic driver to drive a stick – you can now get the small, lightweight turbocharged wonder with a six-speed automatic. The Titanium hatch I drove had the 2.0 liter engine with 160 horsepower on tap. This is a fun engine to drive, too. It also loves long distances, while sipping fuel along the way.
4. DRIVING IT: Even the most basic Focus S is as fun to drive as the ST. It is all deep down below the surface. All four corners have independent suspension with gas-charged hydraulic shocks, making the road smoother and corners flatter. All four disc brakes stop on point with a nod to absolute safety. You can get around town with ease and comfort, as well as take on a nice, long road trip without any fatigue. The biggest thing to know about the Focus is how it is constructed. A rigid shell means not only safety; it also means rigidity and security.
5. NOW, ABOUT THE ST AND RS: I love performance cars as does the next enthusiast. The ST already has a following among their fans, and the RS even got the attention of hardcore enthusiasts – including Mitsubishi Lancer Evolution and Subaru WRX STi owners. While there will be an exclusive number of RS models coming to you, there's plenty of ST hatchbacks available. Think about these hot hatches – Ford wants in on the action. The ST already shows every one of its competitors that it can meet them anywhere – and beat them.