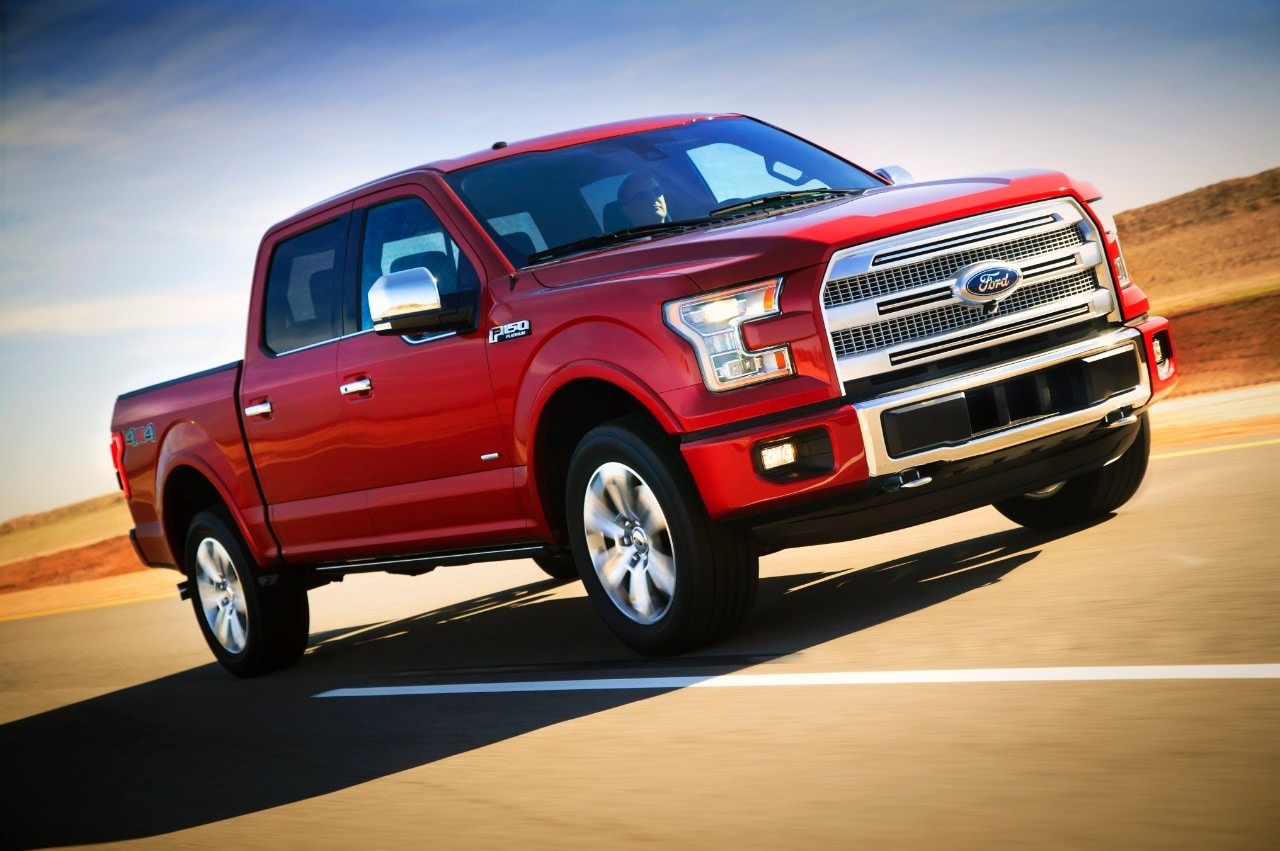 For 38 years, the Ford F-Series has been the best-selling vehicle in the USA. Apple Ford Lincoln in Apple Valley and Apple Ford in Shakopee always offer a great choice of cab types, box sizes, trim levels and engines for our customers to select the truck for their needs. In return is one of the highest levels loyalty of any vehicle sold in this country.
There is a lot to love about the new F-150. The automotive media even expressed their approval of the new vehicle, including its awarding of the 2015 North American Truck and SUV of the Year by a panel of journalists in January of 2015. Our team at Apple Autos found out that our friend, automotive writer Randy Stern, had two 2015 F-150s in to review. So, we had to know what he thought about them. He came back with five things he liked about the new F-150.
1. ALUMINUM MAKES THE DIFFERENCE: Ford states that the 2015 F-150 is 700 pounds lighter than the previous model. Without looking at the numbers, the new F-150 feels lighter. The way the F-150 goes about the business if hauling, towing, working or even commuting will make even non-truck people like it! There is still a solid frame made of rolled steel, forging a solid foundation for this truck. With a choice of four engines and the availability of four-wheel drive, imagine how much is saved at the gas pump on the average over the last truck!
2. THE ECOBOOST IS REAL: When the idea of putting EcoBoost engines in the F-150 was introduced, not everyone bought into it. However, more F-1509s are sold with these engines than any other power option. For 2015, there are two available – the 2.7 liter and the 3.5 liter V6 with twin turbochargers! The 2.7 liter EcoBoost can turn in some great economy. However, choosing the 3.5 liter engine is to choose solid power with serious torque.
3. THE MOST IMPROVED CABIN IN THE BUSINESS: If any truck is going to win me over, there are a few things I look: Easy to read instrumentation with access to key vehicle information, high quality materials and a comfortable and engaging seat. The new F-150 ticks all three boxes with a cabin that is superior in every way. The center information screen is easy to scroll to get the right information I need. I usually look at fuel economy and tire pressure readouts…that's just me. I also need easy access to the audio system from logical button on the steering wheel and I want to touch excellence wherever I lay my paws down.
4. SMOOTH RIDING TRUCK: The F-150 does not come with experimental suspension systems and expensive hardware. The front independent setup and strong rear leaf springs combine to offer a ride unlike a luxury car. This is no exaggeration. Trucks used to ride hard and bouncy. The F-150 makes sure to make good work of the road whether there is no load in the bed or there is a trailer hauling the boat up to the lake. Handling and cornering are pretty good, too!
5. CHOOSING THE RIGHT F-150: Here's a consumer tip: When you're buying a truck, think like a commercial buyer. You may have seen these numbers: GVWR, Maximum Payload and Maximum Towing capacity. To choose the right truck – including engine, transmission, final drive and optional equipment – take a look at the numbers you have to work with. Want to tow your boat or snowmobiles, know your towing numbers for them. Do daily jobs and fill the box up, know how much you haul every day. Bring in those numbers and let the professionals in Apple Valley or Shakopee match them up with the right truck for you. You see, you got a little homework to do before checking out what's in stock! No matter what, it all adds up to a great pickup – the 2015 Ford F-150.